Laptop Data Recovery
Because they are often carried about and exposed to different environmental factors such as heat, water and dust, laptops and notebook computers are far more likely to experience data loss than their office desktop counterparts. Their portability makes these sophisticated and essential in-the-field devices prime candidates for data loss.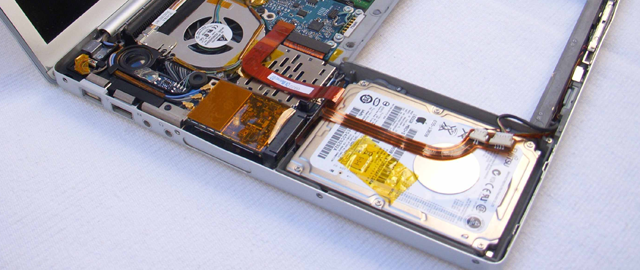 OR The good news is that, with Denver Data Recovery, you can get your data back!
Why laptops and notebook lose data…
At Etekkers we've found that mechanical and electrical failure, software corruption and human error all play a role in data loss. Here are some of the most often noted data loss symptoms and data accessibility problems:
Dropped notebook – no longer turns on
Inaccessible drives and partitions
Applications that are unable to run or load data
Corrupted data
Virus attacks
Hard disk component failure
Hard disk crashes
Damage due to fire or liquids
Media surface contamination and damage
Accidental reformatting of partitions
Accidental deletion of data
Hard drive Brands, Models and Brands we recover from…
Etekkers recovers data from all notebook, laptop and powerbook hard drive brands, models and interfaces. If you have any questions, please do not hesitate to call us for more information.
EIDE and IDE drives from all manufacturers including Western Digital, Seagate, Quantum, IBM, Maxtor, Toshiba, Fujitsu, Hitachi, Samsung, Conner, Micropolis, JTS, Digital, NEC, Compaq, Digital, Kalok, Fuji, Areal and JVC using 2.5″ laptop & 3.5″ Normal 40 pin ATA through to the UDMA6 interface.
SCSI drives from all manufacturers including Seagate, Quantum, IBM, Western Digital, Fujitsu, Digital, Compaq, Hewlett-Packard, Micropolis, Maxtor, CDC, Imprimis, Conner, Epson, Rodime, Toshiba, Samsung, Hitachi and NEC using Normal SE, UW, Differential (WD), LVD, Hot Swappable (SCA) and 2.5″ laptop interfaces.
Fibre Channel drives from Seagate and IBM with FC (1Gigabit Copper) interfaces.
ESDI, RLL & ST/MFM drives from all manufacturers including Seagate, Western Digital, Conner, Fujitsu, Maxtor, Miniscribe, Quantum, Tandon, Fuji, Toshiba, IBM, Kalok, Micropolis, Priam, Microscience, Tandon, JTS, Kyocera, LaPine and Tulin.
MCA drives from IBM, Western Digital and Seagate with IBM ST-506 & ESDI and 2.5″ laptop ESDI interfaces.
PCMCIA Type I, II, III hard drives from IBM, Western Digital, Integral Peripherals and Procomm.
1.8″ ATA-5 drives from Toshiba and Hitachi
CF+ Type II IBM Microdrives